Speaking at KNUG - Karlstad .NET User Group
Yesterday I presented the MasterData Management using BizTalk 2006 R2 talk (I'll soon have a post out with the presentation in English) I recently held at Developer Summit at the local .NET user group in Karlstad (KNUG).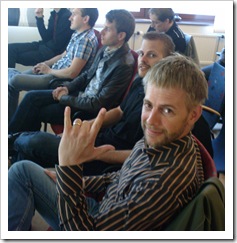 KNUG is a new .NET user group that I actually helped start a couple of months ago. This meeting was the second meeting for the group. The meeting was attended by about 20 persons and we had two presentations on the agenda. Besides my own Thomas Heder showed the group some LINQ and how he and his colleagues uses LINQPad to develop and test there queries.
We also discussed future subjects, possible speakers and moving information on the group over to a Community Server driven site.
Does anyone have any experience on Community Server and how the feature set matches those need for running a user group (managing users, blogs, email lists, calendar etc)?